Celia Flowers is Featured Speaker at ETX-ALTA Spring Seminar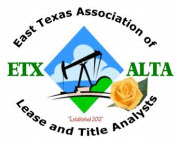 Celia Flowers was honored to be the featured speaker at the East Texas Association of Lease and Title Analysts (ETX-ALTA) Spring Seminar held in Tyler, Texas on May 29, 2014.  Topics covered in the half-day seminar were:
Basic Principles of Homestead Rights, Separate Property, and Community Property
Probate/Heirship/Business Entities – Who Needs to Sign?
Pitfalls in Title Examination
Severance of the Mineral Estate and the Surface Estate
The seminar was attended by Lease and Division Order personnel as well as members of the East Texas Association of Petroleum Landmen.  Attendees received Continuing Education credits for their participation (AAPL – 5 CPL, RPL, RL credits; NALTA – 4 CPLTA credits).